Top 5 Hotels in America for a Spring Fling Revealed
It's been a looooong winter in some parts of the U.S. And it probably seemed to many folks as though winter would never end. But happily, along with greenery and flowers and leafy trees and cool breezes, Spring is about to be sprung. Which means some big holidays are coming up – and we can celebrate them outside. And, of course, in Spring, we can celebrate anything we want to outside…holiday or not! Here are my five favorite places for a great Spring Fling… #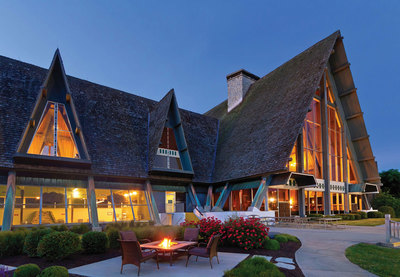 #5 – HUESTON WOODS LODGE, COLLEGE CORNER, OHIO – Hueston Woods is a beautiful country lodge in Southwest Ohio. It's surrounded by a storybook setting, with thick forest on one side and Lake Acton on the other. There's a marina on the lake where you can rent a variety of boats, both motorized and not, and the forest offers great hiking amidst the majesty of nature. If you're a duffer (and you're driving there), bring your clubs, because there's an excellent golf course. There's also a restaurant, lounge, "snack shack," and sundries shop, in addition to two pools, indoor and outdoor. At this family-friendly lodge, there are also hayrides and bonfires, and your pooch is also welcome. Houston Woods has special, treats all over the property, like an historic covered bridge and cool activities such as disc golf and geocaching. And there's even an on-site Nature Center with interesting species of wildlife. The surrounding countryside has aquariums, parks, zoos and a winery. One of the most popular pursuits at Hueston Woods Lodge, though, is just walking through the woods, and luxuriating in the sounds of silence. And right now there are special promotions going on until the end of April.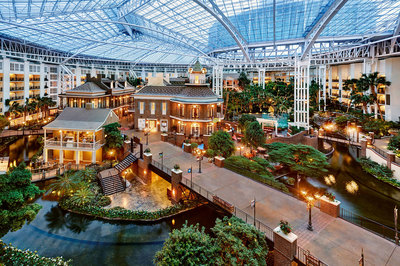 G#4 – GAYLORD OPRYLAND HOTEL, NASHVILLE, TENNESEE – This is the largest non-casino hotel in America, with 2,888 guest rooms spread over nine acres – and covered with a translucent roof! Under these nine acres are eighteen restaurants and bars, along with a game room, florist, dry-cleaning services, barber/beauty shop, newsstand, car rental, fitness center, spa, three pools, and golf. And let's not forget the variety of lush vegetation thriving under that translucent roof, the canals and waterways, and the boat-rides you can take on them. Gaylord Opryland is not just a hotel…it's an experience. And it's adjacent to the most famous music hall in America, the Grand Old Opry. Also, it's a short drive to the cool downtown of Nashville, where, on weekend evenings, every open door seems to offer great live music, not only Country, but many genres. If you haven't been to Nashville, the city will surprise you. It's filled with historic and music landmarks and museums, like the Country Music Hall of Fame. And you may be surprised to find the excellent – and sophisticated – cuisine served in local restaurants. Don't forget to walk down Broadway on Friday or Saturday night, when this Southern city turns Western, and you'll most likely see more cowboy boots and hats than in any Western city.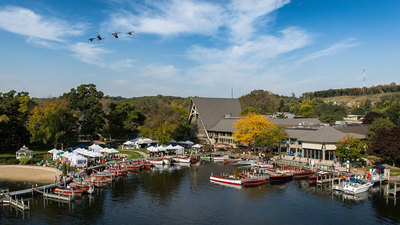 #3 – THE ABBEY RESORT, LAKE GENEVA, WISCONSIN – Lake Geneva was first discovered by the rich and famous industrial titans of Chicago, when families such as the Wrigleys and the Sears' built summer mansions along its 23 miles of pristine shoreline. Today the shoreline remains pristine, as you'll discover when you walk along it. The Abbey is the only full-service resort on this shoreline. The resort has two restaurants, a lounge, and a coffee shop, and you can wander among 23 beautifully-manicured acres. You can rent a boat and get out on the lake, and work out the kinks afterward in the Avani Spa. And the whole family can enjoy the Immersion Virtual Entertainment Center, with very cool games and a cinema. The Abbey offers both family-friendly and adult-only pools, live entertainment and family events every weekend, a disc golf course, the Waterfront Gift Shop, bicycle rentals, bonfires and s'mores. This spring, there will be a series of special events called "Jazzing Up Spring Break," and spring will also feature a special resort package called "Spring Break At the Lake." Definitely do a walk – or several walks – along the lake. The fresh air and the blooming greenery and the incredible mansions will make it an experience you'll remember…and so will The Abbey Resort. And the charming village of Lake Geneva is a slice of Old-Time Americana that is, thankfully, still vibrant and colorful, with beautiful shops and excellent restaurants.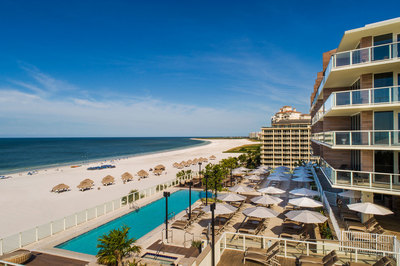 At JW Marriott Marco Island, winter will melt away under a warming sun.
#2 – JW MARRIOTT MARCO ISLAND BEACH RESORT – The JW Marriott was always one of the best resorts in Southwest Florida. And now, after a $330 million upgrade, it's even better. This resort, located right on a beach that's one of the widest you've ever seen, has every amenity you can think of…among them some of the most spectacular sunsets in America. Guest rooms are stylish and luxurious. There's a state-of-the-art spa, nine restaurants, and excellent shops to address your every need, from resort wear to take-out food and snacks. And this is one resort that doesn't sit on its (considerable) laurels. It's now offering an exclusive curated escape called Paradise by Sirene to a limited number of guests, in the Lanai Tower. The newest culinary gem in a resort filled with them is Tesoro, featuring Mediterranean cuisine prepared by "Top Chef" contestant Gerald Sombright. Also notable is a combination gastropub and state-of-the-art gaming emporium called 10K Alley, which offers interesting food combinations, 50 Florida craft beers, and rare, barrel-aged bourbons. The JW Marriott is located on atmospheric Marco Island, which has a few good Florida-centric restaurants, and a sightseeing boat called the "Marco Island Princess" that offers dinner-cruises of the surrounding waters in the 10,000 Islands.
And now, my pick for the best place in America for a Spring Fling…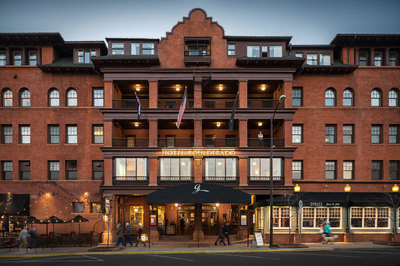 H#1 – HOTEL BOULDERADO, BOULDER, COLORADO – When it opened on New Year's Day, 1909, the red-brick Hotel Boulderado instantly became one of the most distinctive hotels in the West. And it still is. Its architecture and design elements have remained constant for these 110 years…a fascinating combination of Old West and Victorian, from the winding cherrywood grand staircase to the atrium lobby topped by a stained-glass canopy ceiling, and from the original Otis elevator to Victorian lamps sitting atop wooden Western nightstands. The hotel is offering a couple of special Spring promotions this year, along with its renowned Easter and Mother's Day brunches. There's an excellent restaurant called Spruce Farm & Fish, two bars, and a coffee bar. And Boulder is one of the coolest towns in America, with the University of Colorado campus, interesting eateries, innovative companies like Celestial Seasonings, a strong outdoors/fitness ethic, and funky spots like the 55-foot-high "CU" painted on a vertical rock-face in the Flatiron Mountains just outside town, by some daring (or crazy) University of Colorado students. A block from the Boulderado is the Pearl Street Mall, a pedestrian-only outdoor mall with interesting shops and restaurants. And the Hotel Boulderado retains its customers – literally. Some guests apparently liked it so much that they've never checked out. Yes…ghosts! Ask any of the employees, and they'll have stories about hearing banging pots from the kitchen when no one was there, or the tap on the shoulder that the elevator operator felt, even though he was the only one in the elevator. And I believe the stories. Why? Because, when staying there a few years ago, I tossed a pile of coins – 20-25 of them – onto the Western nightstand, and the glass top caused the coins to roll all over the nightstand. When I woke up the next morning…they were in a neat vertical pile, with the largest coins on the bottom!
These are my Top 5 Hotels For A Spring Fling. What are yours?
Source: World Property Journal